Rick, The Rum Runner — Sipping my way through.
March 27, 2015
Friday, March 27, 2015

Rumson's Rum is a product of Trinidad. They are the suppliers to Pirate Dog Brand, the company that blends, bottles and distributes Rumson's Rum. In that sense The rum itself is not made here in the USA, but Rumson's Rum is. The four varieties are blends of Caribbean rums to make the flavors that are Rumson's. That in mind I say Rumson's is an American Rum. It's Trinidadian roots are bought to life here in the US through the skills of people like Eric Glass (President Pirate Dog Brand, LLC) and others there, it becomes Rumson's.
The Two varieties we will taste and write about here today are Rumson's Rum – the name parent of the Rum line from Pirate Dog Brand. The second their Grand Reserve.
From their Website we read:
Rumson's Rum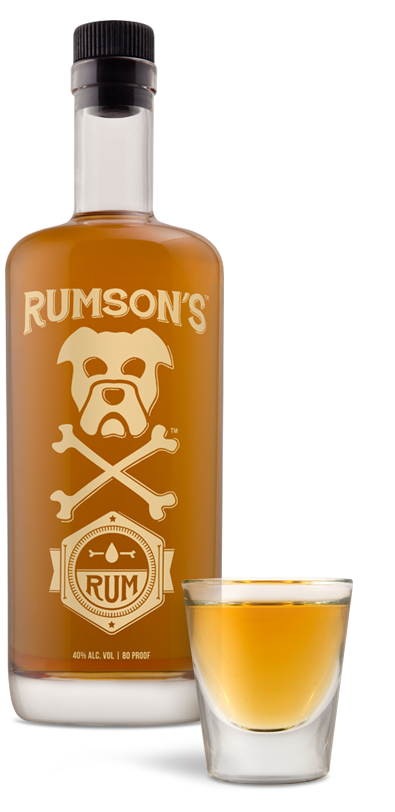 A composite of fine aged Caribbean rums, custom blended to create a unique flavor exclusive to Rumson's. Rumson's Rum is delicious neat or a perfect companion to your favorite mixer. This is a medium-bodied, floral rum with a hint of citrus, a bit of sweet and a crisp, warm finish. For every adventure, for every story, there is Rumson's Rum – Smooth, Sweet, Memorable.
Let me pour a glass and savor.
First, aroma… Something about the smell of rum, for me, is exciting .. I can say this Rum excites you on cork-pop… There is in the aroma immediately and with a backdrop of citrus, and while not a spiced rum, I can detect floral, and a light molasses presence…
Let's sip some:
The website description calls it :Medium Bodied," I wont disagree but don't take that as less taste or lighter in flavor, it is not. Full flavor but not smack you in the face flavor. This is a nice sipping Rum – It has the body to stand up to that. It has spent some time with wood, just a enough to bring the sound of rigging to your ears. The sweetness is molasses and sugar with a great sweet after-tinge of the molasses.It would make a wonderful mixer (BTW they have a nice recipe page), but this is nice, neat. The flavors and intensity suggest a higher proof, yet this is a very pleasant 80. I'm going to splash a bit of water inter and let's see what happens.
Ahhhh. This is getting to be one of my favorite ways to enjoy so many Rums. Rums with flavor. Rums we have missed for a century or more. The water breaks the aroma slightly but enhances (for me) the flavors. It brings the sweetness a bit more to the forefront — a caramel/sugary taste. This will stand up to a melting ice fine, but I would add very little water if I used ice… Of course (and recommended) you can always freshen the mix with the bottle!
Rumson's Rum is recommended by the Rum Runner… Add this to the luscious list of Rums that we want to sit, watch the sunset in the sound of the breakers whispering to us… Nice.
Folks at Rumson's?? Well done!!
The second taste today is Rumson's Grand Reserve. Once more let's see what their website has to say:
Rumson's Grand Reserve Rum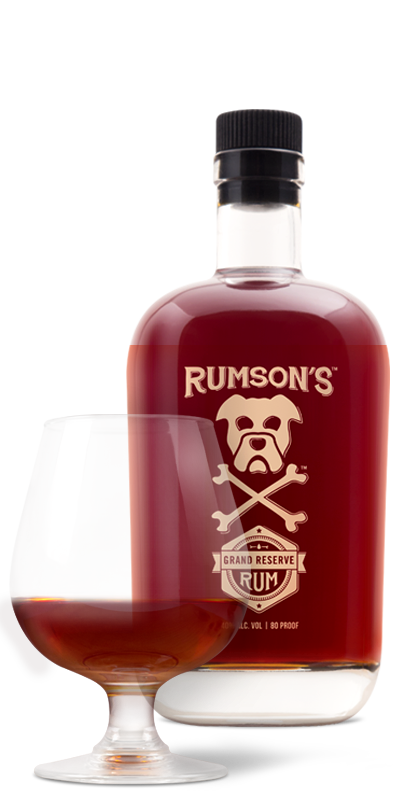 Our Crown Jewel – Exceptionally smooth, exceptional taste. A custom blend, this union of fine, aged Caribbean rums, creates a refined flavor exclusive to Rumson's. This rich, full-bodied sipping rum is remarkably smooth and delicious. A quick finish, with notes of caramel and butterscotch make this unique spirit the perfect choice for your greatest adventures – Rumson's Grand Reserve Rum – Smooth, Sweet, Memorable.
First, I put my big nose to work, Wow, different for sure from the regular Rum, sweeter, caramel and burnt sugars with a bit of Cotton-candy and butterscotch wafting up.
Sip…. A burst of sweet – yes butterscotch sweet and immediate. I get none of the citrus (or very little if I missed it) and more sweet. This is a full bodied, stand alone – Yeah I'll have two-fingers of that, Rum. Still 80 proof and so smooth. They say a quick finish – but it lives for some time with nice caramel after-tones. A bit of burnt wood… They have Rumson's Grand Breeze for the Grand Reserve recipe. I am all for mixing but if you like your rum neat — this belongs on your Rum shelf.
Next we did add a touch of water. The sweetness is pronounce and very forward. Swishing about in my mouth, it seems to gain a bit of body and much flavor with water. This would nicely stand up to ice and its melting. The mixture is a very nice combination. Boy, dockside sipping all day.
Rumson's Grand Reserve is a definite winner here at Rick the Rum Runner.
There you go, two of the four Rums from Rumson's Rum. The medium bodied Rum that is the parent of the line and the full-bodied treat, Grand Reserve, that is for you and your best friends to savor.
The people at Pirate Dog Brand have done a great job on these two. I am sure the follow up on the Spiced and Coffee Rums will be fun to write as well. Wonderful job everyone!
As mentioned earlier, Rumson's Rum is only available in stores in Massachusetts. However Halleluiah!! They have an online outlet — so YOU can have it sent to your home, or bar, or both.
So, later this week look out for Part 2 of "Tasting Rumson's Rum."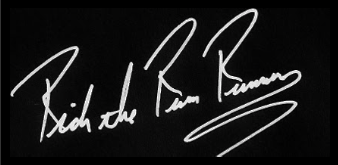 Read All Press